Food Business Operators (FBOs) play the most critical role as they supply 'Food' to the consumers. Their primary responsibility is to ensure that Food being supplied is SAFE and NUTRITIOUS for human consumption as the food which is "not safe is not food ".
Consequences from not acting diligently may not be limited to only consumers and companies' reputation. In USA, cases related with food safety failures had severe consequences also to company's managers. In 2010 there were 1939 persons confirmed as infected (statistical models used in accounting Salmonella illnesses in the US have pointed to more than 62,000 sickened people) after Iowa egg farms Salmonella outbreak. Both owners of this company faced charges related the incident and three years later they were sentenced to three months in jail. In September 2015, former Peanut Corporation of America (PCA) owner was sentenced to 28 years in prison. In this case, 714 people were sickened and 9 died as consequence of a Salmonella outbreak during 2008-2009. The owner of Miami-based cheese company Oasis Brands Inc., was sentenced to 15 months in federal prison due to the intentional sale of cheese known to be contaminated with Listeria monocytogenes. In 2014, at least five people were sickened, including one who died, in the Listeria outbreak traced to Oasis Brand cheeses.
As an FBO, each organization /manufacturing unit/processing unit, etc. must ensure that there is no compromise on the quality and food safety parameters; the system has been implemented in such a way that the product which is being placed in the market for human consumption is consistently complying to the highest and most stringent quality and food safety norms and standards. In order to ensure this, the Top Management and everyone in the organization must first undergo training to understand and realize that supply of unsafe food may result in sickness/foodborne illness of consumer, hospitalization of consumer, or even the death of the consumer(s). We will now discuss the 10 key responsibilities of the FBOs.
1. Know the national food safety laws (Law of land): Governments of respective countries have current established and implemented regulations/rules/laws pertaining to handling of food during different stages from farm to retail to ensure health and safety of general public. These may be in the form of standards, general and specific guidelines to ensure hygiene, code of conducts etc. As an FBO, your food safety leader(s) must delegate responsibilities and train your team members on the applicable rules and regulations, code of conduct, standards etc., and monitor/verify/validate that these are being efficiently implemented and practiced consistently.
2. Ensure plant layout is as per food safety norms: If the factory design is poor or is not complying to food safety requirements, the likelihood of frequent failures is high. FBOs, must learn to act proactively, not reactively. In other words, do not be complacent and wait for food safety failures and then react by taking corrective /preventive actions.
3. Maintain Hygiene @ 24×7: This is one of the key responsibilities, 'Hygiene' is the top most priority and should be the way of life for everyone in the organization. A cleaning and disinfections program must be implemented to ensure that all parts of the establishment are appropriately cleaned, including tables, utensils, equipment, etc. The program(s) should be continuously and effectively monitored for its suitability and effectiveness. In the figure below is illustrated 4 pillars of such a program.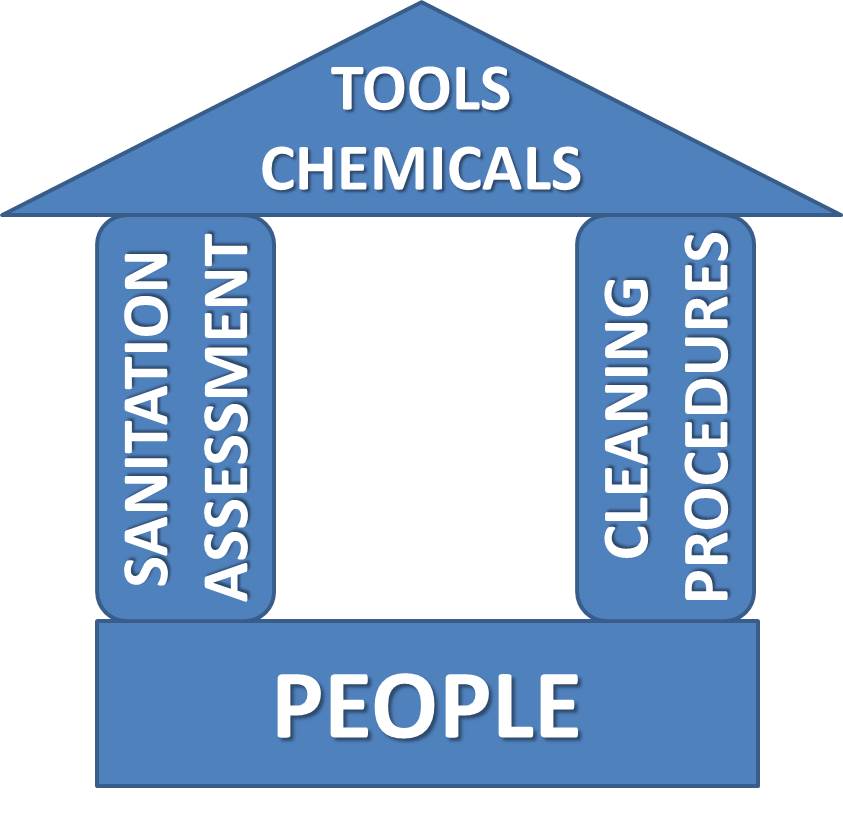 People are the drivers of effective sanitation. Initially, how to motivate people to the process is particularly important. Then, a Sanitation Program must lay on two pillars: Sanitation Assessment and Cleaning Procedures. Firstly, organizations should assess their site's sanitation needs. Based on the products, processes and equipments' characteristics, identify the type of hazardous soils (biofilm, pathogens, microbiological bacteria, parasites, allergens, metabolites, etc.) mostly present, that need to be cleansed, and what are the appropriate chemicals, cleansers, sanitizers, and/or disinfectants to do it. With that in mind, food safety professionals can develop cleaning procedures to describe how often the facilities/equipment should be cleaned, by whom, with what kind of chemicals (alkali, acids, …) and how to do it (step-by-step). These two documents can be put together in a Sanitation Standard Operations Procedures (SSOP) program for the entire facilities. Only after all these reflections (and not at the beginning, as so often happens) organizations should go buying the tools [including protective gear for chemicals handling and cleaning; known as Personnel Protective Equipment (PPE)] and chemicals to implement effective sanitation.
4. Ensure food safety management implementation: The question is how can an FBO ensure that the food being processed and supplied by their organization is SAFE ? The only reply to this question is by implementing a food safety management system (FSMS) based on Hazard Analysis Critical Control Point (HACCP). FBOs should give due importance to HACCP based FSMS. They shall maintain Good Hygiene Practices (GHPs), Good Manufacturing Practices (GMPs), Good Processing Practices (GPPs), and HACCP based system. The establishment shall exercise proper controls at all stages of production starting from raw material procurement to the final dispatch of the cargo.
5. Food Safety Culture: As rightly said by someone, apart from 3 hazards mentioned in general in the HACCP study i.e. the Physical Hazard, Chemical Hazard and Biological Hazard, the 4th Hazard may be unaware, careless, untrained, demotivated – Human Being. They are ultimately responsible for developing and implementing HACCP system and if they wish they may manipulate everything. As an FBO, this is the key responsibility to ensure that positive Food Safety Culture is implemented throughout the organization.
6. Know what is happening in the world: Develop a system to keep yourself current on relevant new regulations, new hazards identified, emerging food safety issues, food fraud scandals, etc. and ensure your FSMS is getting updated accordingly.
7. Know the regulations of the destination countries: If you are an exporter, before exporting your products, you must be knowledgeable of the requirements of the importing country(ies) and then ensure that your product(s) is compliant to the requirements of the importing country.
8. Ensure Zero-repetitive food safety complaints: Strictly following GMP and Prerequisites Programs (PRPs) and adherence to HACCP system by competent and motivated team of people will contribute to near to zero complaints on food safety – be it internal or external. However, in case of any complaints ensure proper root cause analysis and determination of corrective/preventive actions. Validate corrective /preventive actions to ensure there is no repeat of complaint. If a complaint is repeating, for certain there is a serious issue and there is need to re-do root cause analysis ( see figure to do root cause analysis bellow) as either the root cause was inaccurate or the corrective /preventive actions have not been determined or implemented properly.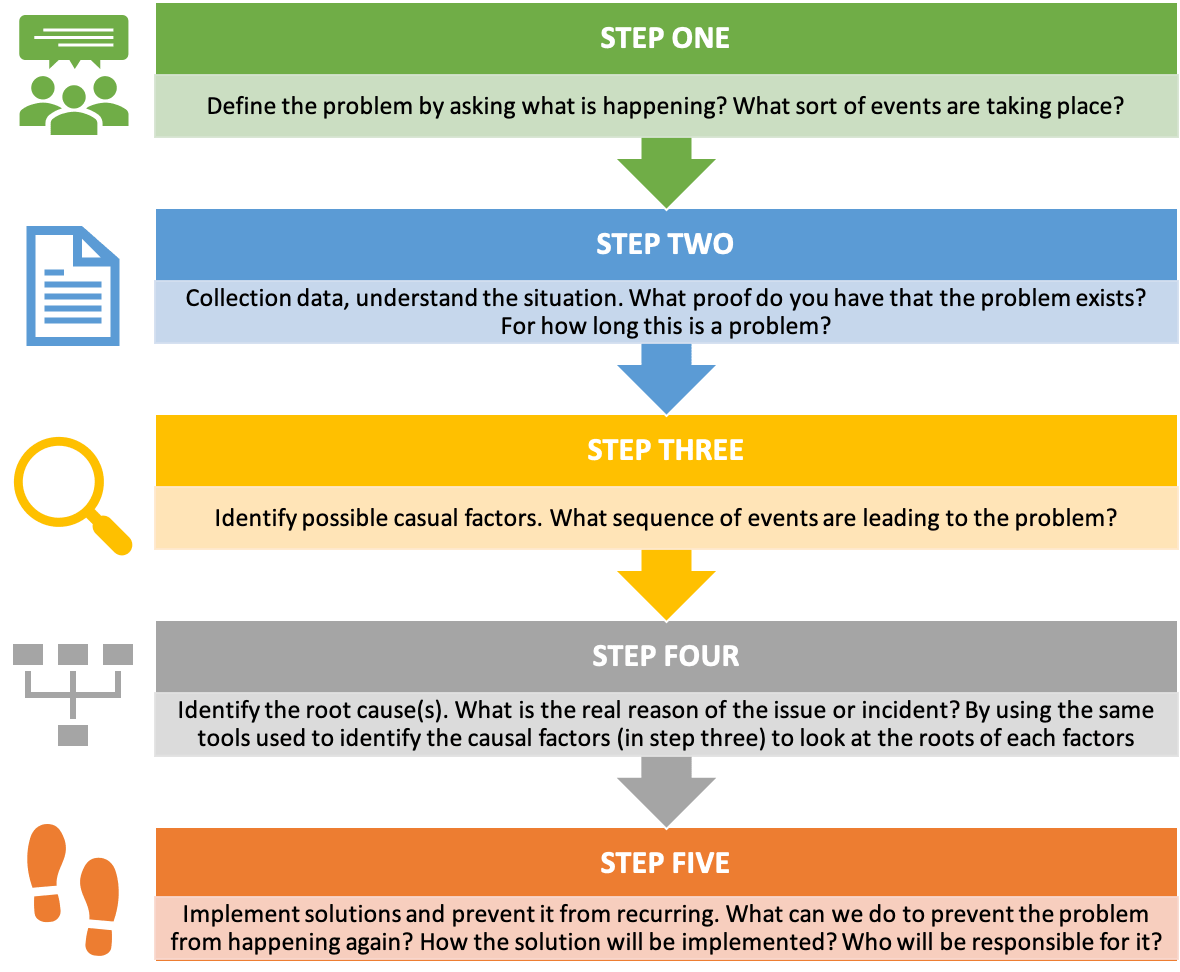 9. Adherence to SOPs / Work Instructions: Standard operating procedures (SOPs) and work instructions are easily established and documented, but a major gap is in knowing whether SOPs and work instructions have been clearly understood by users. Often in routine operations, everyone assumes what he or she is doing is right. It is most critical for top management to ensure adequate communication. There should be measurement tools, such as staff interviews and written examinations, to ensure communication has been successful—that everyone knows what to do and is motivated to do their best. The challenge is to get shop floor worker or the front-line food handler, in particular, to understand the desired requirements. To ensure that each and every unit complies with the quality and food safety requirements, establishment must ensure requirements have been properly communicated—again and again—and someone is closely and constantly monitoring them, making corrections in the case of deviations and then communicating the requirements again. There needs to be gap analysis conducted to measure the effectiveness of adherence to SOPs/work instructions and then actions to be taken accordingly.
10. Training: "I cannot spare anyone on my team to this training program at this time", is the situation in some cases …. An FBO should understand the importance of training. No program will be successful unless people understand the importance of training requirements. Critical team members often do not participate because of emergency work from which their superiors won't release them.
Continuous training programs should be established for everyone in the organization. The HR manager, along with FSMS team leader and respective heads of departments, should establish a training calendar, with an option for emergency training programs. Effective and results-oriented training is crucial. Training related to quality and food safety, in which the target is to establish a positive food safety culture, is always different from other training. It involves not only knowledge sharing, but the participant must also be inspired to learn and apply a new, positive mind-set for quality and food safety.
Every training program should be evaluated. Participants should be made aware of training objectives. At the end of the training, there should be an examination—preferably objective-type questions—or suitable on-the-job evaluation techniques such as observing participants' performance—closely for a specified number of days—and/or interviews of participants. A person who scores less than the expectation should be provided a special session in the presence of the department head.
Train your people and continue training them. You will see a quality culture develop. Don't merely meet requirements for the auditor; meet them for your organization.
Once a food business operator has clearly understood his responsibilities and has implemented regulatory requirements including an efficient food safety management system and is committed to maintaining it consistently, it will result in consistency in delivery of safe food products, increased market share, brand reputation, delighted and healthy customers, successful audits, increased turn over, more orders, adherence to regulatory norms, confident top management and ultimately a healthy society and world food security.
This article was written with Wasi Asghar, MBA, MSc, CHA-ASQ, Black Belt Six Sigma, 23 years' experience
Disclaimer: The information contained on this article is based on research done in the last months and the authors personal experience and opinion. It is not intended to represent the view of any organization they work for or collaborate with. The authors will not be held liable for the use or misuse of the information provided in the article.