During 3 days I had the opportunity to join the GFSI community in Barcelona under the topic Delivering Impact for Safe Sustainable Food. More than 600 professionals from 50 countries joined the first in-person GFSI Conference in two years and the energy was great. It was a perfect reminder how food safety is not a competitive space. 

Read my LIVE BLOG to have access to the full coverage of the event.
"When GFSI moves, the all world moves with us"
In Erica's welcoming address she acknowledged the importance GFSI has in leading food safety and explained why following the UN Food Systems Summit the focus of the conference had to be on sustainability. 
One of the first big news to me was the announcement of an on-line data-base with all certifications issued under GFSI. The next day, Erica explained that this move follows the need to improve transparency and protect the GFSI brand ( an example of how GFSI dealt with a false certificate was provided). It is expected the data-base to be available until the end of the year. 
Through the conference it became clear Food Safety, Sustainability and Food Security overlap. Virginia SIEBENROK – Chief Food Safety and Quality of the United Nations World Food Programme (WFP) talked about this remembering that Food Safety is an enabler of food security. 
After all, how many lives are being saved?
Consumer trust was also addressed. When we talk about food safety we always emphasize that it is all about science but we don't convince consumers only with science. Building trust is also about adequate communication. And to make a compelling case about food safety it would be important to understand and measure how it impacts consumers. Tom HEILANDT
Secretary Codex Alimentarius Commission commented that Codex is making a study to be published by the end of the year to understand the impact of Codex regulations. After all, how many lives are being saved?
GFSI's Global Markets program is being reshaped. GFSI is working with the steering committee and the community and plans to bring news in the next conference. Some of the challenges that GFSI will address are to have a platform and tools with information but that are collaborative and tailored to individual needs. As was enphazised, SME need more support to perform the assessment besides the tolls to do self-assessment. Future global markets should have flexibility to adapt to the local and national context. Anne GERARDI (GFSI Senior Project Manager) shared the goal to build a community of experts to help SME business. She notices that support must be local but global at the same time and that the platform has to cover the specific needs.
During the conference I had the privilege of talking with many food safety professionals and bring more and more to the I'm a SLO movement. It was amazing to see how enthusiastically professionals reacted to the idea that we are not in the business of checking people or records, we are in the business of saving people's lives. More and more professionals now know that from now on their role is also to be a Saving Lives Officer (SLO).
Get to how the I'm a SLO mindset is on the basis of developing a positive food safety culture listening to my interview to Food Safety Magazine and using my just published e-book.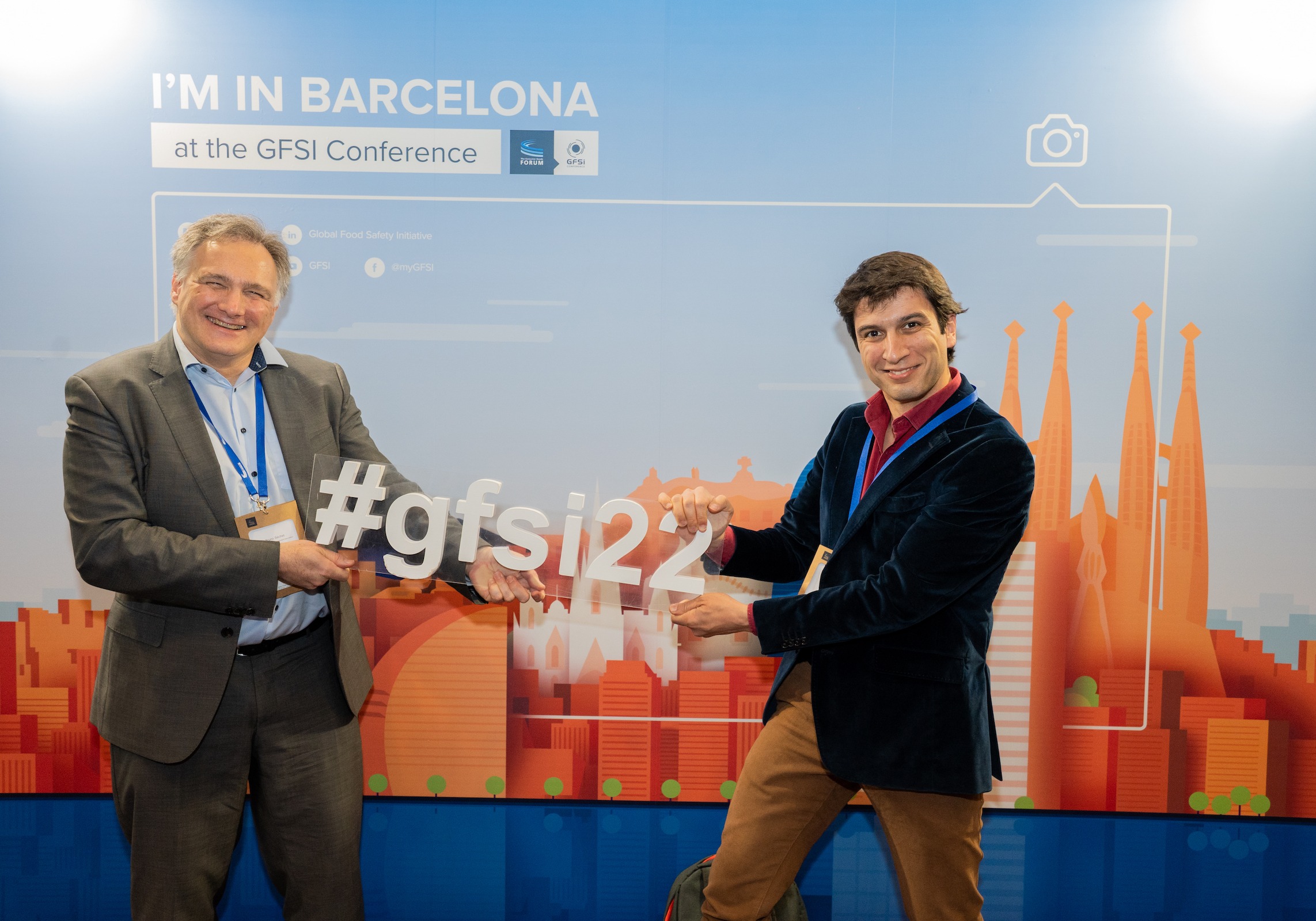 GFSI is looking to make a clear distinction between being trained and competent.
The topic of auditor qualification was one of the most anticipated. Marie-CLaude addressed the conference to justify this change and the sentence I retained was that GFSI is looking to make a clear distinction between being trained and competent. For that, GFSI is introducing Professional Recognition Bodies (PRBs) in the auditor qualification to provide independent validation and certification of auditors competence. Registration in PRBS will replace redundante checks and balances from several CBOs. All the core competences will be validated by PRBs. PRBs are expected to assure ongoing continuous development programs.
Nexts steps include a Pilot program that has started with volunteers to test all different scenarios and provide information. During the one year pilot program issues that are raised will be addressed and if successful GFSI will roll out to everyone. By 2024 auditors have to be registered in a PRBs.
Sustainability implies (most probably) less convenience.
Sustainability was one of the topics that was most addressed during the conference. Bertrand SWIDERSK's (Chief Sustainability Officer Carrefour) presented 3 main reasons why there is resistance to adopt sustainable measures: Mindset, Habits and Timing.
Change the mindset – is not because it is sustainable that it has to be more expensive (at least always…)
Change habits – Removing plastic from some products sometimes seems impossible but most probably is not. He shared an example of the resistance to remove plastic from textile. At first people were reluctant but it not only worked but even increased sales.
Dance with consumers – Change at the right time for consumers according to awareness of the problems you are solving. Consumers are becoming more and more aware of the importance of sustainability. Organizations have to bring awareness to the fact that sustainability may imply less convenience for consumers.
Next time in the US
To wrap up the 3 days conference I choose this sentence
Food should be good for the planet, good for the people that produce the food and safe for people to eat…
… and we, food safety professionals, play a role in it.
This article was written by Nuno F. Soares.
Pictures credits: The Consumer Goods Forum
Disclaimer: The information contained on this article is based on research done in the last months and the authors personal experience and opinion. It is not intended to represent the view of any organization they work for or collaborate with. The authors will not be held liable for the use or misuse of the information provided in the article.